A few days ago and we decided to email
Utahbrides.com
and see what they thought about our blog/website. For those of you that don't know they do a show every every Sunday helping couples with their wedding plans. We thought it was a cool idea for a future show and maybe there are lots of other websites like ours out there that they could spotlight.
The next day while we were golfing we received an email that said,
"WOULD YOU BOTH LIKE TO BE ON THE SHOW!"
We were so amazed! Of course we said yes; so a few days later we were in the studio filming an episode of
UtahBrides.com!
Who would have thought this blog would come so far!

Heather Beers
,
from Charly and Baptists at our Barbecue
, hosts the show every Sunday Night on
KJAZZ channel 14 at 10 pm
. She interviewed us and asked me how I came up with the idea for the website, about all the people from all over the world that have come to the site, and of course how we got engaged! I was so anxious I think I cut Delena and Heather off as I was talking, I hope that doesn't show! Either way, we had a fantastic time and we were so excited. They said it will be on in the next couple of weeks!
We also got to meet
Kirby Heyborne
from
Singles Ward, The RM, The Best Two years, etc.
He was so funny! Kirby was on the show to talk about his new album,
"Inside"
You can go to his website and check it out at
http://www.kirbyheyborne.com/
I have been listening to it and I love it! Here is an article on his album from The Daily Herald.
Read Article
We gave Kirby our web address, we hope he checks out the site as well!
Here are some photos of us at the studio. We didn't have a digital camera so I am working on fixing the lighting on some of the photos because the flash didn't work.
"Heather, Delena and BenJoe"
"Kirby, Delena and BenJoe"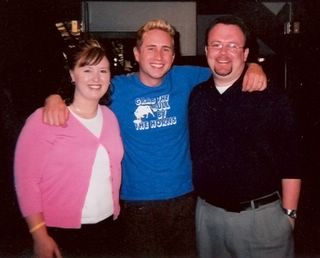 "Kirby and Delena posing for an '
engagement
' photo"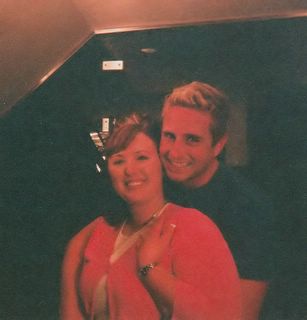 Well anyway, we felt so special to be on the show and we thank Robin
the Executive Producer
, Heather and everyone else for being so wonderful to us and for letting us be on the show. Like I said, it will be on in a couple of weeks, we will keep you posted as to when.
BenJoe and Delena